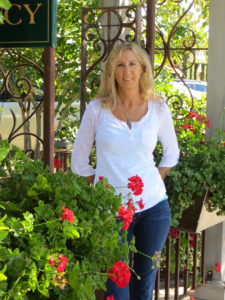 A Little Bit About Me
My name is Claire and I grew up in a small town south of Boston in Massachusetts on the ocean, called Hull, known mainly for two things: Nantasket Beach, for its long stretches of beach and Paragon Amusement Park. As a young child, I knew I had psychic abilities and I knew very little about how to use them or develop them. My mother was also gifted with intuition but thought it best to discourage me from developing my psychic abilities to protect me from the criticism of others. I always knew I was to join the Air Force when I grew up. So I signed up right out of High School. At 19, I started my journey of self discovery and world travel through the military. As a teenager still in High School, I worked in a nursing home caring for elderly people and from that experience I was reminded how I needed to travel.
It provided me with so much learning and so many experiences that I continue to be grateful for in my life. While in the military, I got my wish and lived abroad in Okinawa, Japan. This was the perfect place to reconnect with myself on a more spiritual level. I now was able to open to my intuitive thoughts and visions. I experienced visions, astral travel, and became attuned to communicating with my Spirit Guides. It was an amazing time. Later, in Fairbanks, Alaska I renewed my strong connection with Mother Earth and the Goddess within myself which I continued to do for many years and still do today.
When I left the military, I was married and had two wonderful children. The marriage lasted for 13 years before we went our separate ways. Spirit guided me to take certain jobs involving everything from gas station attendant, teaching groups of developmentally disabled and mentally ill people independent living skills, to working as a travel agent and in high end retail furniture stores. All these past employment experiences allowed me the learning experiences and growth I needed to step into my true-self.
When I started my business, I was in my late 40's and by then had strengthened my ability to hear and see Spirit Guides and Angels significantly. There is not a moment that goes by each day where it is not all about listening to Spirit and following the guidance I receive for myself daily, sometimes hourly. I am blessed to have work each day that I truly love to do. The best part is watching people as they change and they begin to really listen closely to their Spirit Guide's messages when they come to me for healing which involves connecting with Spirit.
I am a Spiritual being living in physical form and experiencing each day throughout my life's journey. Like you, I strive for great love in my life, fulfillment in my work, and being surrounded with the love of family and friends. Every morning I wake up grateful that I get to do what I do for a living. When people send me follow up messages after a session confirming the messages given to them through me by Spirit, it moves my heart and fills me with tears of joy. I still feel a sense of awe that I get to be a part of someone's life journey for a moment or for many years. I love who I have become and feel fortified through Mother Earth.
My life's work is to assist you with your healing and Spiritual development and to dedicate my life to helping others. As a Spiritual person, there are many healing modalities I offer as part of my spiritual services that include personal readings, spiritual counseling, energy work and much more. Recently, my own Spirit Guides channeled the creation of my own product line called "Earth Creates Art" that was designed to help everyone reach their desired goals and manifestations for their own life journeys. You can learn more about these modalities and my product line by clicking to the Services page and Product page on my web site. Please feel free to check out my product lines and healing center at, www.Earthcreatesart.com and www.Sapphirecenter.net.
My Place of Thanks to All who Touched My Life
At every step of the way in my journey, Spirit has provided the most wonderful people to come into my life to share my world and my joy with their gifts and unconditional love for me. This is the place on my web site that I choose to use specifically to remember people and give thanks to them for continuing to play such life altering roles in my life and to look forward to all the new people that will become part of my life as I continue to journey forward.
My two children, Douglas and Krystal, who are the biggest gifts in my life, I am truly grateful and blessed to have them share in my life always and forever.
My husband John, who assist me on my journey now and encourages me to grow and expand. Having faith in me and our journey together with Spirit.
My Mother, who taught me about being a woman and how to accept people exactly for themselves, I thank you for the gift of acceptance. Even after she passed, she continues to teach me in Spirit form all the time. Thanks, Mom. My Father, who has taught me so much about forgiveness over the years, I thank you for being my Dad.
Jan, one of the most kindest ladies I have been blessed to know and have the pleasure to have in my life, she is a wonderful gift to me, thank you for helping me spread my wings further then I thought possible.
Nancy, my dear friend, sister and much more, all rolled up in one person, I thank you for your love.
Columbo, my friend, a brother, and I also consider him a close "girlfriend" to me as I am able to share my thoughts with him, I thank you for this bond.
Lynne, my friend who keeps me laughing, and who believes in me always, I thank you for the gift of confidence and joy.
Patricia, a wonderful lady, She helped me find my wings when I thought I had lost them.
Miss Madison, Jan, and John some of the most awesome beautiful generous kind loving giving luminous delightful gift of people who make me smile inside.
To the people whose names I need not mention, I thank you for teaching me lessons I was ready to learn no matter how challenging they might have been.
My family for being who they are, which made me whom I am, I thank you for the gift of family love complete with all the bumps, twists, and turns in the road. I am grateful for every breath in this moment right now.
To all My Spirit Guides and Angels, who have been with me even when I thought I was lost, I thank you for the gift of hearing and insight so that I could follow your guidance faithfully even during the times I did not understand, yet knowing that I would understand at the perfect moment in time. I thank you for all of those perfect moments in time past, present and future.
To the Universe and Mother Earth, I thank you for the gift of Spirit and God and for being with me always.
Blessing to you all
May the Goddess of Love be with you all
Love Claire
A Place to Honor My Girls that have since Left this Earth

Allow me to introduce you to my girls Princess Baby Sapphire Eileen (age 17) & Duchess Smittens Elizabeth (age 15). Both of these treasures were born in Fairbanks, Alaska…… (Burrrrrrrrrrrrrr). They both always lived with me and often traveled with me including a road trip around the Lower 48. They remain a beautiful part of my life. I have been blessed to watch each of my girls spread their wings and take flight into Spirit world…..The Princess at age 18 and The Duchess at age 17-1/2…… Thank you Girls for being one Spirit with me.